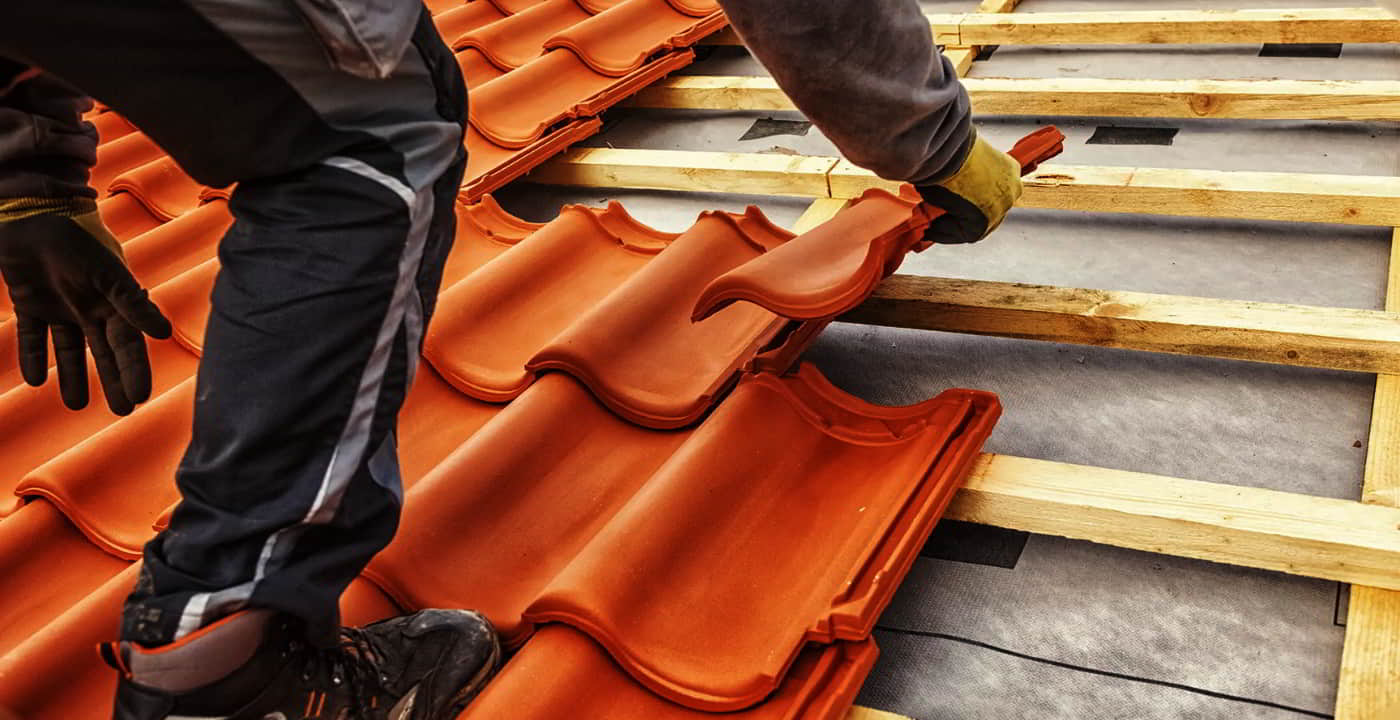 Though a roof typically has an excellent lifespan of many decades, the time will come when a roof replacement is essential. Typically, this is when the damage to the roof is so much that simple repairs and patching are no longer cost-effective. With the roof constantly battling the elements, roof repairs in the UK are not uncommon and are often the best way to ensure the long life of your building.
Roof Replacement Key Points
Many factors affect the cost of a roof repair. Be sure to get a trusted quote for your roof.

Ignoring roof problems can lead to larger problems in the future. Maintaining your roof is essential.

A roof replacement is likely to add value to your home, making it a very worthwhile investment.
How Much Does it Cost to Retile a Roof?
On average, a new roof will typically cost approximately £5,500, with the typical spend falling between £2,500 and £7,200. Of course, the cost for a new roof is affected by many factors so a quote from a specialist is essential.
Here at Manchester Roofers, we offer a free evaluation and estimate and will advise whether a new roof is required or a roof repair would be suitable. Contact us today for an expert, no-obligation quote.
What Affects Roof Installation Cost?
There are many factors to consider when estimating the roofing price. The following are all taken into account when determining the final cost:
Are you replacing your roof like-for-like, or do you plan to consider different materials for the new roof? Some materials, such as slate, offer a greater lifespan for your new roof but are heavier and may require some structural changes to the underlying support. The price of materials is a substantial part of the overall cost of a new roof.
The amount of materials and work involved in your new roof is, of course, affected by how large your home is. When comparing the average cost of a new roof in the UK, it's important to factor in the size of your house when compared to others.
Some roofing projects are more difficult than others. Access, roof pitch, house layout, structural issues, and other factors can all make the overall job more difficult and a proper evaluation before work begins is essential to make an accurate estimate. Chimneys and skylights often affect the difficulty and cost of a roof project, and in some cases, planning permission or council inspections may be required.
Your location can have an effect on pricing, from increasing labour and material costs to making the project more difficult. Houses in London, for example, are typically more expensive to re-roof than those in other parts of the country. Again, when comparing your quote with a national average, it's important to take your location into account.
The largest single cost of a new roof will be the labour involved in its construction. Here at Manchester Roofers, we do everything we can to keep the labour costs down, even on the largest roofing projects.
Fitting a new roof also means the removal of the old roof and any other waste materials. There is a significant amount of waste generated from a new roof installation so expect a charge for environmentally responsible waste disposal.
How Much are Roof Repairs?
Given the factors listed above, it is difficult to provide a true estimate for your roof repairs without a site visit and full estimate, however, the following figures should provide some idea of expected roof repair prices.
Roof Renovation on a Two-Storey Four Bedroom House
A roof renovation involves removing the previous roof, sourcing new roof tiles, and undertaking a full roofing job. Scaffolding will be erected around the property, and substantial waste removal including a skip will be required.
Here, the materials involved will make a substantial difference. Expect to pay between £6,500 and £12,000 for this complete roofing job when using slate, and between £5,500 and £9,000 for similar work using concrete tiles.
Bungalow Roof Renovation (Two Bedroom)
Being a smaller property, the cost of a similar roof renovation on a two-bedroom bungalow is significantly lowered. Costs of £4,000 to £6,000 are likely for a slate roof, with plain tiles costing between £3,500 and £5,750.
New Conservatory Flat Roof
A three-metre squared conservatory with a suitable flat roof requires significantly less labour and materials to the other example projects. Expect to pay between £800 and £1200 for this job.
Fixing a Tiled Roof Leak on a Bungalow
It is easy to see how regular maintenance on the roof is significantly cheaper and will help avoid larger costs at a later date. Fixing a few tiles on a bungalow typically takes half a day of labour and can be completed for £100 to £200.
When to Think About a Roof Replacement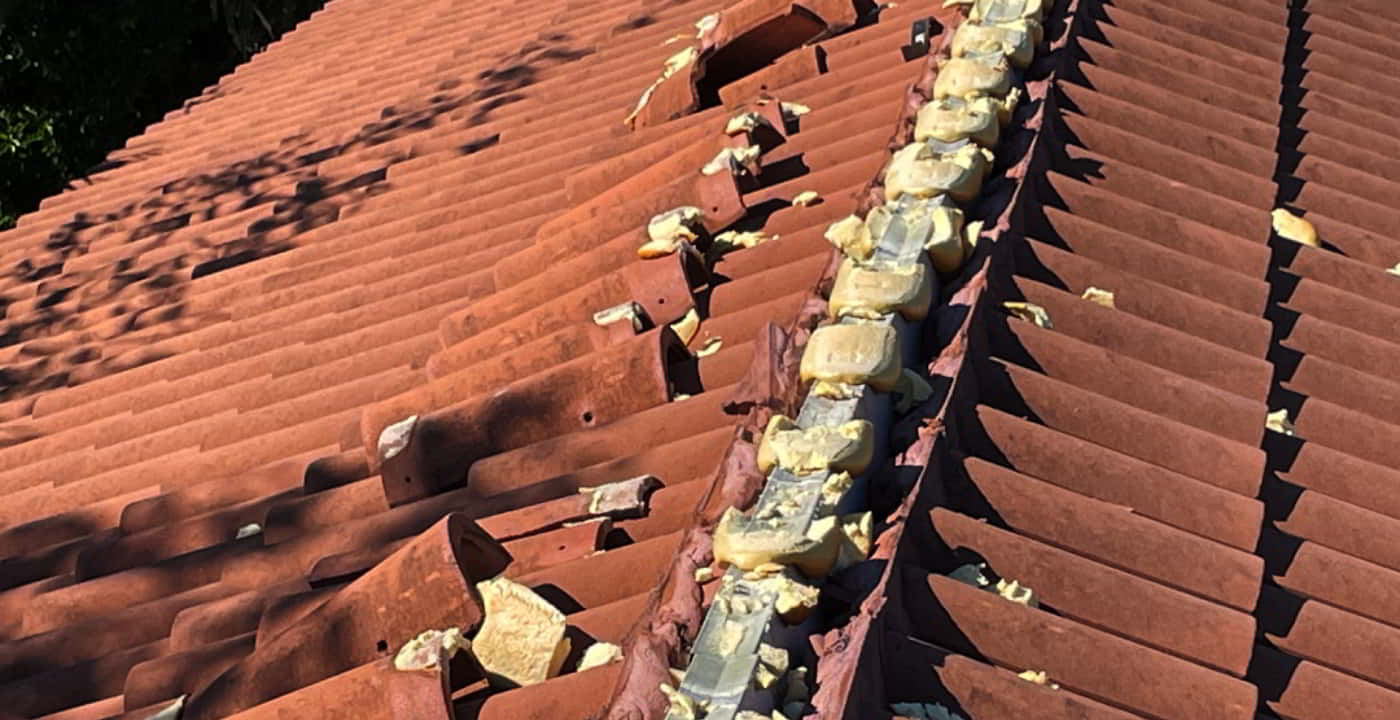 In many cases, a roof can be repaired – there's certainly no need to replace the entire roof if it can be fixed with some new tiles and a little labour. However, roofs do have a lifespan and if yours is coming to the end of its natural life, it's important to replace it before the damage becomes significantly worse.
Some things to look for to know if you need to consider a new roof include:
Fixing a Tiled Roof Leak on a Bungalow
If you are in the loft and there are shafts of sunlight cutting through the gloom, it's important that you call a specialist for an evaluation. Gaps between roof tiles are a strong indicator that the roof has reached the end of its life.
Water is coming through the roof
Leaks do occur and may be fixed with a simple roof repair, but it's important to have them seen to quickly. Larger leaks, multiple leaks, and anything which causes water to be seen through the ceiling are very problematic and only likely to get worse. Get your roof checked immediately!
It may be that you can see missing and broken tiles from outside your home or through a window vantage point. In many cases, these can be replaced as part of a roof repair, but it's essential that it is looked at and in some cases, multiple missing tiles will require an entirely new roof. Like other structural problems, if ignored, missing and broken tiles are likely to lead to larger problems later on.
Even the best roofs will eventually need replacing through old age. If your roof is beyond its life span – typically 25 years for an asphalt shingle roof, or 50 years for a clay tile, concrete tile, or slate roof – then it's worth getting specialist advice and considering a replacement.
How to Save Money with a New Roof
Ensuring that your roof is in a good general condition is the first step to avoiding the cost of a new roof. Roof maintenance may not be part of your routine, but it's worth taking the time to regularly check and maintain your roof, and it's never too late to start.
If you do need to replace your roof, though, it's often a good thing that will save money in the longer term. Your home's energy efficiency is likely to be improved considerably with a new roof, with modern insulation and sustainability at the heart of roof installations in the UK, today.
A new roof is likely to bring down your energy bills and save you considerably over its lifetime. It's also worth considering options such as solar panels, to make your roof replacement even more beneficial.
Try to arrange your roof replacement at the right time of year and get a good quote from a trusted company – the best times are between March and September. Discuss all the options and make sure you are confident that you are making the right decision for you and your home.
New Roof Installations – FAQs
Can You Claim for a New Roof on House Insurance?
Home insurance is unlikely to cover a new roof unless it is needed due to damage, such as from a falling tree or house fire. If you are undertaking roof replacement due to general wear and age, then it is very unlikely home insurance will cover the cost. 
However, if your roof is new (under ten years old) and a roof replacement is essential, then you may be able to make a claim. It's worth discussing your options with your insurance company in these cases.
Does a New Roof Add Value to Your Home in the UK?
In short, yes. Houses with a new roof are far more desirable and if the current roof is old, it may be beneficial to undertake a roof replacement prior to putting your house on the market.
New roofs mean better energy efficiency, improved aesthetic, and increased confidence for the buyer. A report by RCI magazine in 2021 suggested that a roof replacement offers an average 63% return on investment for sellers.
Do I Need a Professional to Retile a Roof?
Roof repairs and replacements are a specialist job best done by experienced professionals. The work involved is extensive and the potential damage done by someone without the proper training could be horrifying.
In the long term, hiring a professional roofer will be substantially cheaper than the alternatives. We're available to undertake roof repairs and reroofing projects of any size. Contact us today for a comprehensive quote.
How Will a Roof Replacement Disrupt My Family?
A roof replacement need not be disruptive, though it could be sensible to consider leaving the property for a few days with larger projects. Scaffolding will need to be erected in many cases, and if a full roof replacement is undertaken, it could take a few days to complete.
Discuss your project with your roofers in advance to see if vacating the property is helpful. Depending on the size of your project, a roof replacement may be somewhat disruptive. Scaffolding is erected in many cases.
Getting a Roof Replacement with Manchester Roofers
Here at Manchester Roofers Ltd, we have a team of professional fitters with decades of experience in roof repair, renovation and replacement. Contact us today to get advice and a no obligation quote for your roof.